As a palliative care doctor, Dr. Ana Claudia Quintana Arantes has been caring for terminal patients for more than twenty years, in close contact with human beings facing the highest vulnerability.
One of the most important voices in the effort to break the taboo surrounding death in Brazil, Dr. Arantes offers us a collection of moving real stories gathered throughout her daily practice, at a moment where life is close to the end and people reveal their inner self.
These are stories of people of different ages, creeds and origins who leave us an inheritance of lessons of life. You will know A.M. and R. who show us, each one his way, that human communication goes far beyond what we can imagine.
You will get emotional with M., who received in life the unconditional forgiveness for the maltreatment of his daughter. You will cheer for F., a homeless who strived to find his mother to say goodbye to her.
In her medical practice, Dr. Arantes devotes her patients' feelings and stories the same attention as she devotes to their physical symptoms and discomforts. But how, in the day-to-day routine, might it be to reach people's inner feelings and thoughts just before they die?
Through touching, tense and even funny moments, these stories remind us of the importance of human relations and the respect for the others. The fear of death is the fear of something not lived yet, and yet it is never too late to get involved with our own story.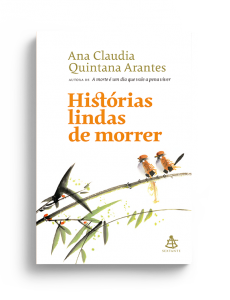 Histórias lindas de morrer
Editora Sextante – ISBN 978-8543109541
224 pages